Happy Friday everybody!
Book Beginnings
on Friday is now hosted by
Rose City Reader
.
The Friday 56
is hosted at
Freda's Voice
. Check out the links above for the rules and for the posts of the participants each week. Don't dig for your favorite book, the coolest, the most intellectual. Use the CLOSEST.
Beginning:
Zane. Stop. Please.

Evie's cry rang out in the forest, the distress in her voice spearing Zane's chest. He ground to a halt, just a few feet short of Stanton Creek, sucking the warm Montana summer air into his lungs. He would do anything for her, even if it meant having his heart broken all over again.
Friday 56:
"You don't have friends." Dex laughed as they stepped out into the games room. "You have brothers. And brothers look out for each other."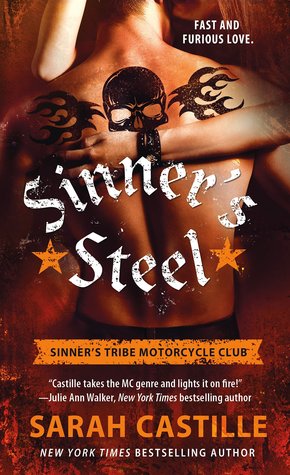 This week I am spotlighting
Sinner's Steel
by Sarah Castille. This is the third book in her series of romances taking place in the Sinner's Tribe Motorcycle Club. The first draw for me was the cover. Here is the description from Amazon:
HE'S HELL ON WHEELS.

Tall, dark, and dangerously handsome, Zane "Tracker" Colter is the strong, silent type of tattooed muscle biker who drives women wild. But as a master of strategy for the outlaw MC club, Sinner's Tribe, he doesn't have time to play around with groupies and biker chicks-especially when he can't stop thinking about Evie, the girl who got away...

SHE'S PLAYING WITH FIRE.

Evie's been in love with Zane ever since they were children-until he broke her heart and disappeared. Now he's back in her life, bigger and badder than ever. Zane is stunned by how beautiful and confident Evie's become, using her artistic talent to customize motorcycles. He wants her so bad, he'd ride through fire to win her back. There's one problem: Evie is dating his deadliest rival-the leader of the Black Jacks-and if Evie and Zane hook up, there'll be hell to pay... in Sinner's Steel.