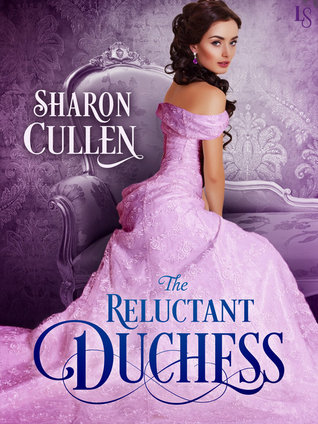 The Reluctant Duchess
Author:
Sharon Cullen
Publication:
Loveswept (November 10, 2015)
Description:
Perfect for fans of Mary Balogh and Eloisa James, Sharon Cullen's seductive new historical romance ignites as a shy country girl and a hotheaded duke surrender to dangerous temptations.
Lady Sara Emerson was jolted out of her dull provincial life by her cousin's murder. Now that the killer seems to be targeting her, Sara seeks help from the man who was once her cousin's fiancé, Gabriel Ferguson, Duke of Rossmoyne. With his towering frame and fiery personality, Ross cuts an intimidating figure. Living under his protection, however, has its own hazards—like the sudden urge Sara feels to take their relationship in new, exquisitely inappropriate directions.
Dazzled by the social graces of his betrothed, Ross never noticed her shy, blushing cousin. Looking at Sara now, though, he's drawn to her lovely eyes and calm disposition. Funny how a year away from the hustle and bustle of the
ton
changes a man. But Ross has no intention of allowing a woman to interfere with his plan to return overseas. He will simply capture the murderer and set sail once again. The problem is, with her beguiling lips and heavenly touch, Sara makes him never want to leave home—or his bed—again.
My Thoughts:
Lady Sara Emerson comes to the ex-fiance of her cousin Meredith when she begins receiving letters about Meredith's death that grow increasingly threatening. The Duke of Rossmoyne has spent the last couple of years in India both recovering from Meredith's death and growing up becoming a more thoughtful, serious person. He had said that if Sara's family had any problems, they could come to him. Sara is taking him at his word.
Ross had never paid attention to Sara while he was engaged to Meredith. Meredith was such a vibrant person that the quieter Sara faded into the background. Sara suffers from severe social anxiety but somehow feels comfortable with Ross and doesn't hesitate to stand up to him when he is being arrogant.
The two gradually fall in love but don't think they have any hope for a successful relationship due to Sara's fear that she won't be able to be a successful duchess. Of course, Ross's mother doesn't help Sara much when she insists that Sara attend social events and talks to Ross about Sara being unsuitable.
The romance heats up as the danger also escalates making this an exciting and engaging romance. Fans of historical romance will enjoy this one.
Favorite Quote:
Sitting there, oh so prim and proper, Sara simply said, "I refer to the marquess as my father, as he's the one who raised me, and I'm not returning to Hadley Springs without some answers, Your Grace."

Her tone was so matter-of-fact that at first he didn't even realize she was disagreeing with him. "Let me take care of this, my lady. I'll find the answers we both want."

Her lips thinned and her brown eyes flashed in anger. Ah, so the kitten had claws. "I'm not leaving."
I got this eARC for review from NetGalley.
You can buy your copy here
.