Happy Friday everybody!
Book Beginnings
on Friday is now hosted by
Rose City Reader
.
The Friday 56
is hosted at
Freda's Voice
. Check out the links above for the rules and for the posts of the participants each week. Don't dig for your favorite book, the coolest, the most intellectual. Use the CLOSEST.
Beginning:
"Lady Sara Emerson to see you, Your Grace."

Gabriel Ferguson, the Duke of Rossmoyne, cracked an eye open and quickly slammed it shut. "What the devil time is it?" he croaked.

"Half past eleven, Your Grace."
Friday 56:
"So we know the man looks like me and dresses like me," Montgomery said.

"You and half of London's male population," Ross said, once again handing Sara up into the carriage. Her hands were warm, and for a strange moment he wished he could feel her skin beneath her gloves.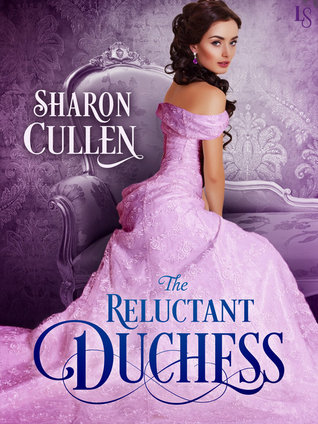 This week I am spotlighting
The Reluctant Duchess
by Sharon Cullen. I got the ARC of this historical romance from NetGalley. Here is the description from Amazon:
Perfect for fans of Mary Balogh and Eloisa James, Sharon Cullen's seductive new historical romance ignites as a shy country girl and a hotheaded duke surrender to dangerous temptations.

Lady Sara Emerson was jolted out of her dull provincial life by her cousin's murder. Now that the killer seems to be targeting her, Sara seeks help from the man who was once her cousin's fiancé, Gabriel Ferguson, Duke of Rossmoyne. With his towering frame and fiery personality, Ross cuts an intimidating figure. Living under his protection, however, has its own hazards—like the sudden urge Sara feels to take their relationship in new, exquisitely inappropriate directions.

Dazzled by the social graces of his betrothed, Ross never noticed her shy, blushing cousin. Looking at Sara now, though, he's drawn to her lovely eyes and calm disposition. Funny how a year away from the hustle and bustle of the ton changes a man. But Ross has no intention of allowing a woman to interfere with his plan to return overseas. He will simply capture the murderer and set sail once again. The problem is, with her beguiling lips and heavenly touch, Sara makes him never want to leave home—or his bed—again.