Here are quick reviews of the latest novellas in the Rogue River world.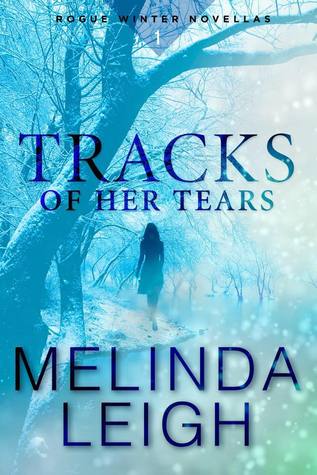 Tracks of Her Tears
Author:
Melinda Leigh
Series:
Rogue Winter Novella 1
Publication:
Montlake Romance (November 10, 2015)
Description: In the first thrilling Rogue Winter Novella, sleepy little Solitude, Oregon, wakes up to another deadly threat.
County investigator Seth Harding intends to spend the holidays with his newly reconciled family, but a few days before Christmas, a homicide thwarts his plan. Seth arrives at the scene and makes a painful discovery: the victim is his brother-in-law's girlfriend. Her apartment has been ransacked and her toddler left motherless. To make matters worse, Seth's brother-in-law, Bruce, is missing. With Solitude locked in a rare, deadly deep freeze and the temperature plummeting, the residents launch a desperate search.
Seth calls his wife, social worker Carly Taylor, to take the case so the little girl doesn't get lost in the foster care system. With the holidays near, Carly brings the child home with them to celebrate Christmas. But when the Taylor farm is also trashed, Seth and Carly must race against time—and against a paralyzing winter storm—to find Bruce and catch a killer in the first pulse-pounding sequel to the Rogue River Novellas.
Dead in her Tracks
Author:
Kendra Elliott
Series:
Rogue Winter Novella 2
Publication:
Montlake Romance (November 17, 2015)
Description:
On Christmas morning, Solitude, Oregon, unwraps murder…
This wasn't how Police Chief Zane Duncan expected to spend his first Christmas with fellow officer and girlfriend Stevie Taylor. But when a local motel calls in the discovery of a dead body, the couple's holiday takes a grim turn. This is the second murder in Solitude within the week, despite the fact that their primary suspect is already in custody. Together, Zane and Stevie must face a disturbing truth—their small town may be harboring
two
killers.
As their investigation digs deep into the backgrounds of newcomers and longtime residents alike, Zane and Stevie also struggle to adjust to life under the same roof. Even if the stress of homicides and cohabitation don't bring an end to the couple, the murderer lying in wait just might.
My Thoughts:
TRACKS OF HER TEARS begins a couple of days before Christmas. Bruce's girlfriend Amber Lynn is found strangled to death and Bruce is missing. His brother-in-law Seth has caught Amber Lynn's murder case and called in his wife Carly, a social worker, to take care of Amber Lynn's toddler Charlotte. Between trying to find Bruce and trying to find out who killed Amber Lynn, Seth is also trying to spend quality time with his wife and daughter. Seth and Carly are working on their marriage after their separation and both know that their all-consuming jobs are a major threat to their reconciliation. Both are trying to make the compromises they need to so that their marriage will survive.
Being a novella, this story went fast but packed in a lot of emotion and action. Between Bruce's nearly fatal car accident, a break-in at the Taylor home, and an attempted car-jacking of Carly and her daughter Brianna, the action was non-stop.
DEAD IN HER TRACKS begins on Christmas Day when Zane is called to the local hotel where a body has been discovered. Zane and Stevie are investigating when they are called back to the jail because their prisoner - Bob Fletcher - has been murdered. Someone went in while all the police were investigating at the hotel and cut Bob's throat.
The new victim had been staying in the hotel before going home to surprise her parents for Christmas. She might have been the young woman that Bob Fletcher was videotaped putting into the back of his SUV. She was killed elsewhere, cleaned with bleach, and dumped back into her hotel room. When Zane starts investigating, he learns that a couple of other young women were also missing from a nearby town too.
Zane is hoping that the serial killer isn't someone who lives in their community. He does have a couple of other possible suspects at the motel including a convicted sex offender. Meanwhile, Zane and Stevie are working on their relationship. Zane is giving Stevie time but he wants to marry her when she feels ready.
When Stevie is snatched by the killer, Zane has to put together all the clues to find the real killer.
This novella finishes the story started in TRACKS OF HER TEARS and stars Zane and Stevie. It is also action packed. This story is more of a police procedural than the first novella as we are given clues to follow. I like the relationship between Zane and Stevie who are true partners.
The two novellas were both fast-paced and engaging. Mystery lovers and fans of romantic suspense will enjoy them both.
Favorite Quotes:
Stevie had slipped on the ring and stared at it on her finger as different emotions battled inside her chest. "No. I'll keep it. It's a reminder of what we've been through. And it's proof that we can overcome what life throws at us." A battle scar.
I got these two novellas for review from NetGalley. You can buy your copies
here
and
here
.