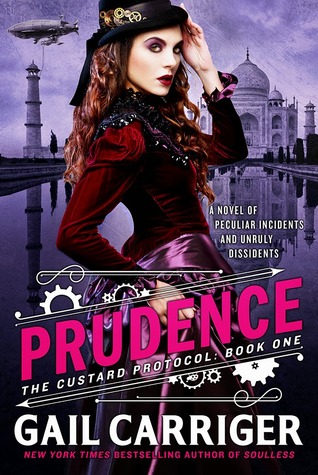 Prudence
Author:
Gail Carriger
Series:
The Custard Protocol, Book 1
Publication:
Orbit (March 17, 2015)
Description:
Introducing the Custard Protocol series, in which Alexia Maccon's daughter Prudence travels to India on behalf of Queen, country...and the perfect pot of tea.
When Prudence Alessandra Maccon Akeldama ("Rue" to her friends) is bequeathed an unexpected dirigible, she does what any sensible female under similar circumstances would do -- she christens it the
Spotted Custard
and floats off to India.
Soon, she stumbles upon a plot involving local dissidents, a kidnapped brigadier's wife, and some awfully familiar Scottish werewolves. Faced with a dire crisis (and an embarrassing lack of bloomers), Rue must rely on her good breeding -- and her metanatural abilities -- to get to the bottom of it all...
My Thoughts:
Lady Prudence Alessandra Maccon Akeldama has grown up, strongly influenced by all three of her parents. She is restless and looking for adventure. When she is given a dirigible which she names The Spotted Custard and she decorates the balloon to look like a ladybug. Given a commission by her uncle Dama, she gathers her crew and head off to India in search of tea.
She takes along her best friend Primrose Tunstell and recruits Primrose's twin Percy to be the ship's navigator and scholar. She also recruits Quesnel Lefoux to be her engineer. Primrose and Percy are the children of her mother's friend Ivy now turned vampire queen. And is the son of another of her mother's friends the noted inventor Lefoux. The four, along with their crew, are primed for adventure which is quick to find them.
On their way to India they encounter a lioness who is clearly a shapeshifter. Sekmet appears at intervals to drop cryptic comments. It is clear that she and Rue are talking at cross purposes as Sekmat thinks Rue's mission to India is much different than Rue thinks it is.
Arriving in India, they discover the Indian version of vampires and discover the existence of the Indian version of werewolves which happen to be weremonkeys who are bitter rivals of the vampires. Rue's ability to borrow the forms of supernaturals is evidenced in this story as she becomes a werewolf, a werelion, and a weremonkey on various occasions.
The story is filled with Carriger's brand of quirkiness and over the top actions. It was fun to read. It is clearly the beginning of a series because there are a number of plot threads left dangling. I can't wait to go along on Rue's next adventure.
Favorite Quote:
They floated up smoothly, if rather more round and cheerful than elegant. Once clear of the trees, the propeller whirled to life, driving them forwards, preparing to push them into the correct current once they broke into the aetherosphere. Then, quite unexpectedly, the chimney off the stern belched out two great burps of smoke along with a tremendous flatulent noise.
I bought this one for my Kindle.
You can buy your copy here
.