Happy Friday everybody!
Book Beginnings
on Friday is now hosted by
Rose City Reader
.
The Friday 56
is hosted at
Freda's Voice
. Check out the links above for the rules and for the posts of the participants each week. Don't dig for your favorite book, the coolest, the most intellectual. Use the CLOSEST.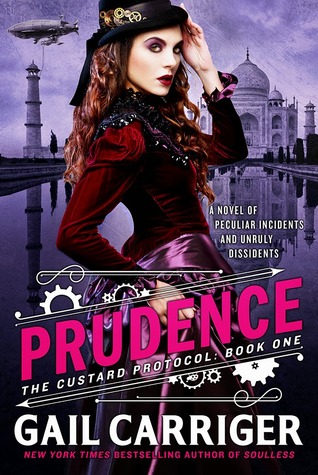 This week I am spotlighting
Prudence
by Gail Carriger. This is the first book in her new Custard Protocol series. I have really enjoyed all of Carriger's historical fantasy stories and think this one sounds like fun too. Here is the description from Amazon:
Introducing the Custard Protocol series, in which Alexia Maccon's daughter Prudence travels to India on behalf of Queen, country...and the perfect pot of tea.

When Prudence Alessandra Maccon Akeldama ("Rue" to her friends) is bequeathed an unexpected dirigible, she does what any sensible female under similar circumstances would do -- she christens it the Spotted Custard and floats off to India.

Soon, she stumbles upon a plot involving local dissidents, a kidnapped brigadier's wife, and some awfully familiar Scottish werewolves. Faced with a dire crisis (and an embarrassing lack of bloomers), Rue must rely on her good breeding -- and her metanatural abilities -- to get to the bottom of it all...
Beginning:
Lady Prudence Alessandra Maccon Akeldama was enjoying her evening exceedingly. The evening, unfortunately, did not feel the same about Lady Prudence.
Friday 56:
Rue almost slipped back into the pond. She recovered her balance and glared at him. He remembered his manners, embarrassed. However, when he tried to assist her in dumping water out of her boots, she issued him a sharp, "Shoo!"