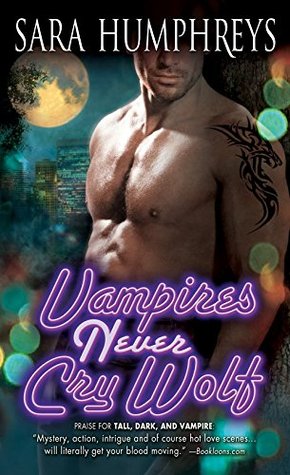 Vampires Never Cry Wolf
Author:
Sara Humphreys
Series:
Dead in the City (Book 3)
Publication:
Sourcebooks Casablanca (March 3, 2015)
Description:
Vampires are nothing but trouble...
As far as beautiful vampire Sadie Pemberton is concerned, werewolves shouldn't be sticking their noses into New York's supernatural politics. They don't know jack about running a city-not even that hot-as-sin new vampire-werewolf liaison who's just arrived in town.
Werewolves are too sexy for their own good...
The last thing Killian Bane wanted was to end up in New York City playing nice with vampires. Unfortunately, he's on a mission, and when he encounters the sexiest, most stubborn female vamp he's ever met, he's going to have to turn on a little of that wolfish charm...and Sadie's going to learn a thing or two about what it means to have a wild side...
My Thoughts:
Vampires and werewolves don't like each other. Nonetheless, when the heir to the werewolf throne comes to New York to open a club, he spends a lot of time in the vampire-run club in town to get ideas. He also becomes fascinated with the manager who is a vampire named Sadie. Sadie was around when the treaty was signed making a very uneasy peace between the two supernaturals and knows she should stay away from Killian. However, Killian has something that attracts her despite knowing it isn't smart.
But many vampires aren't fond of the idea that werewolves are coming to town and are even less fond of the idea that there could be a relationship between a vampire and a werewolf. Many werewolves, including the young female werewolf who has planned to by Killian's mate and queen, aren't fond of the idea either.
Generally, I thought the book got off to a slow start. I kept waiting for something other than dithering or second thoughts to happen. It wasn't until the last third of the book when the story picked up the pace and then there was a frantic dash to the conclusion.
Fans of paranormal romance may want to give this one a try. The characters were engaging. This is the third book in the series. I could tell that I was missing some back-stories of some of the characters but the book does stand alone.
Favorite Quote:
He wanted to fix it. That's what men do. Wolf. Human. Whatever. They fix shit. But this wasn't something he could fix, and it was making him feel totally useless.
I got this eARC from NetGalley.
You can buy your copy here
.