Happy Friday everybody!
Book Beginnings
on Friday is now hosted by
Rose City Reader
.
The Friday 56
is hosted at
Freda's Voice
. Check out the links above for the rules and for the posts of the participants each week. Don't dig for your favorite book, the coolest, the most intellectual. Use the CLOSEST.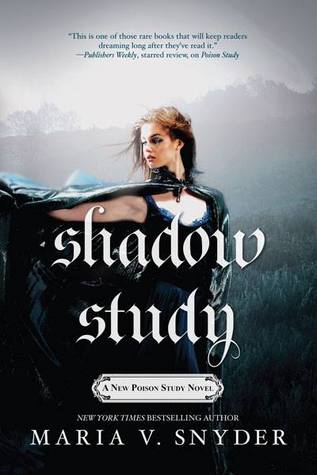 This week I am spotlighting
Shadow Study
by Maria V. Snyder. I got this eARC from NetGalley. Here is the description of this February 24 release:
New York Times bestselling author Maria V. Snyder wowed readers with Poison Study, the unforgettable story of poison taster Yelena. Now she's back with a new tale of intrigue.

Once, only her own life hung in the balance…

Oddly enough, when Yelena was a poison taster, her life was simpler. But she'd survived to become a vital part of the balance of power between rival countries Ixia and Sitia. Now she uses her magic to keep the peace in both lands—and protect her relationship with Valek.

Suddenly, though, they are beset on all sides by those vying for power through politics and intrigue. Valek's job and his life are in danger. As Yelena tries to uncover the scope of these plots, she faces a new challenge: her magic is blocked. She must keep that a secret—or her enemies will discover just how vulnerable she really is—while searching for who or what is responsible for neutralizing her powers.

Yes, the days of tasting poisons were much simpler. And certainly not as dangerous…
Beginning:
Ugh, mud. Kiki said as she splashed through another puddle. The wet muck clung to her copper coat and dripped from her long tail. It packed her hooves and coated the hair of her fetlocks with each step.
Friday 56:
Worry had trumped desire. She might have regretted it when she sobered, and he'd wanted more from her than a drunken one-night stand.