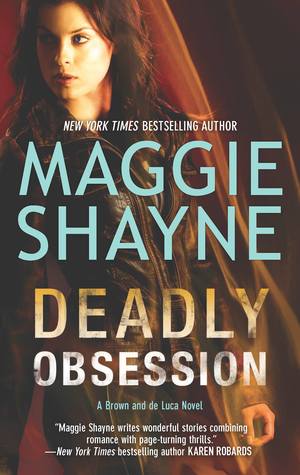 Deadly Obsession
Author:
Maggie Shayne
Series:
Brown and DeLuca (Book 4)
Publication:
Harlequin MIRA (November 25, 2014)
Description:
A cold-blooded killer with a burning obsession…
Rachel de Luca has a bad feeling about the new woman in Detective Mason Brown's life, the nurse taking care of him after he's injured in the line of duty. She'd like to think it's just jealousy, but intuition tells her it's something more, maybe something dangerous.
Mason knows Rachel's wary of commitment, and asking her to stay when he's in this condition would be the worst thing for their relationship. Then they receive chilling news that drives everything else from their minds.
Mason's psychotic sister-in-law has escaped from custody, putting her sons—the nephews he's raising—in the crosshairs. When his house is burned to the ground, he and Rachel are relieved that there are no bodies in the smoldering rubble, but now his nephews are missing and the clock is ticking.
As Mason and Rachel try to find the boys, she senses a new and unexpected danger stalking them. Soon, everyone close to Mason is in deadly peril—Rachel more than anyone….
My Thoughts:
In this fourth Brown and DeLuca novel, Rachel and Mason have advanced their relationship enough that they are sleeping together frequently but neither is ready to admit to any emotional commitment. But, after Mason runs into a burning home to save two children and is burned himself, Rachel acknowledges - to herself at least - that she loves him. The fire is arson and Mason begins investigating.
The arsonist has done this before, when a man breaks up with her she uses fire to attempt to regain her place in his life. To her thinking, if she takes away everyone else he loves, he will naturally turn to her. She sees news footage of Mason running into the house and decides that Mason is her true love. But there are a couple of obstacles in her way - Rachel and his nephews.
Add in that the arsonist is a nurse at the facility where the boys' mother has been committed and that Marie recognizes the evil in her eyes. But Marie, heavily medicated and psychotic as she is, can't communicate what she believes. However, the nurse makes it possible for her to escape which just adds more chaos to the situation.
There are fires, graduation parties, kidnappings, and a cute new bulldog puppy in this wonderful story. There is also love - finally spoken - for each other and for the family they are building together. This was a great story.
Favorite Quote:
"I'm a work in progress. We all are. The trick isn't to be perfect, the trick is to recognize where there's room for improvement and then to improve."
I bought this one for my Kindle.
You can buy your copy here
.