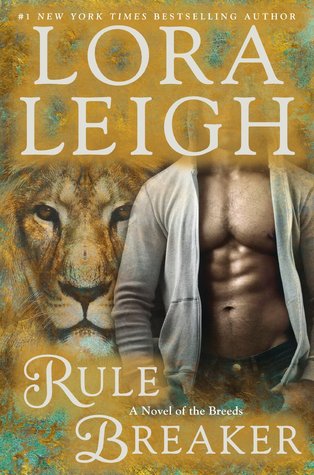 Rule Breaker
Author:
Lora Leigh
Series:
Breed (Book 13)
Publication:
Berkley; Reissue edition (November 4, 2014)
Description:
Lion Breed and enforcer Rule Breaker has a few rules he doesn't break. But having sex with a woman outside his own breed, even a human woman, is not one of them. Especially when it's Gypsy, the party girl who's determined to lead him on a merry chase. But she won't be able to outrun the lion—or the man in hot pursuit.
What he suspects is mating heat may not be that at all. Just his animal instincts rioting, pacing, irritated whenever he's away from her. What ensues is a fiery affair that breaks all the rules of mating heat and will eventually endanger his mate with the very rules designed to protect the Breeds—for she's possibly been working against them…
My Thoughts:
This was a typical Lora Leigh Breed book. There were pages upon pages of the description of the physical acts of arousal. Any emotional response to attraction was deeply buried underneath the physical.
The main characters were Gypsy Rum McQuade and Rule Breaker. Gypsy is twenty-four and is the victim of a trauma she suffered when she was fifteen. She was abducted, abused, almost raped, and watched the brother who was like a father to her killed in front of her. She was rescued by the Breeds but was deeply damaged. She was certain that her brother's death was her fault - an opinion confirmed by her family who left her alone to grieve. She has been working secretly with the Unknowns to protect the Breeds.
Rule Breaker is a lion breed and is determined never to give in to the mating heat. He watched his mother be tortured to death in the name of scientific research because she was mated to a Breed. Rule has decided to run if he should ever feel any twinge of the mating heat. However, his lion has other plans. His lion has been keeping the fact that Gypsy is his mate from him until Rule gets too close to her to run. Neither Rule nor Gypsy are going to surrender to the mating heat without a fight.
During the last couple of books, the main plot has been to find someone who can help Jonas's daughter Amber survive the injection that an evil scientist gave her. Jonas is searching for a Breed who knows the formula for the injections and, hopefully, knows a cure. Jonas, being a master manipulator, has plots within plots going on. But Rule, Gypsy, and various others also have plots and secrets.
Early on in the story, I decided to give up on trying to figure out who knew what and who was keeping what a secret. Many of the plot twists building through the last couple of books were resolved here. And, naturally, Rule and Gypsy come to terms with being mated.
If you are looking for a book with intense sexual scenes, this is one for you. It might be better to be familiar with the overall story arc from previous books. But this one can be read alone as an intensely erotic paranormal romance.
Favorite Quote:
She'd lived so many years alone, without allowing anyone close enough to her to be be harmed that she had no idea how to let anyone in anymore.
This one came from my TBR pile.
You can buy your copy here
.