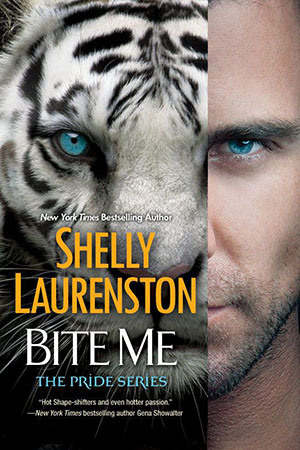 Bite Me
Author:
Shelly Laurenston
Series:
Pride (Book 9)
Publication:
BRAVA (March 25, 2014)
Description:
Livy Kowalski has no time for idiots. When you shapeshift into a honey badger, getting through life's irritants is a finely honed skill. Until she gets stuck housing her nutso cousin and dealing with her dad's untimely and unexplained demise.
That's where Vic Barinov comes in - or his house does. Vic can't step outside without coming back to find Livy devouring his honey stash and getting the TV remote sticky. It gets his animal instincts all riled up. But he'll have to woo her at high speed: all hell is breaking loose, and Livy is leading the charge...
My Thoughts:
Livy Kowalski is something of a misfit in her family of honey badger thieves and criminals. She is a professional photographer who has temporarily lost her creativity. When she comes back home from her father's funeral, she finds that her mother has invited a cousin Livy really hates to move in to her apartment.
Livy flees to Vic Barinov's house because she really likes his honey supply. Vic is a hybrid combination of bear and Siberian tiger. While he doesn't like many people, he does like Livy. When Livy learns that her father actually was hunted by unscrupulous hunters who delight in hunting shifters, she is determined to find the people responsible and have her revenge. Vic is also looking for the people responsible for hunting shifters. They team up to find those responsible.
What I like most about this series is the wide variety of shifters and hybrids. I love that they really have the attributes of their animal selves. I also like meeting characters from earlier books in this series again in each new volume. Besides the plot about bringing the hunters to justice, Livy has been hired - for an outrageous sum - to be the photographer at Blayne and Bo Navikov's wedding. We also get to see a variety of other favorite characters including Dee-Ann Smith and, briefly, Eggie Smith.
This is a fun paranormal series.
Favorite Quote:
Livy took a breath. "It's probably a good idea. That way I can more carefully arrange the murders."

Vic nodded at her statement. "See? That sounds like a good plan."

But Ira gawked at her brother. "That really sounds like a good plan to you?"

"Better than the first one," he shot back.
I bought this one.
You can buy your copy here
.