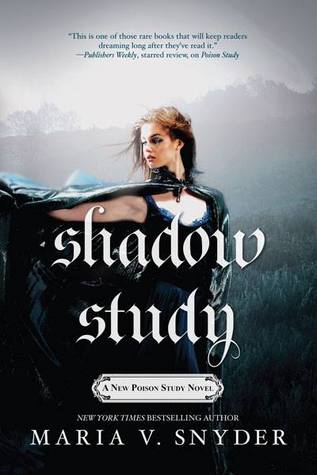 Shadow Study
Author:
Maria V. Snyder
Series:
Soulfinders (Book 4)
Publication:
Mira (February 24, 2015)
Description:
New York Times
bestselling author Maria V. Snyder wowed readers with Poison Study, the unforgettable story of poison taster Yelena. Now she's back with a new tale of intrigue.
Once, only her own life hung in the balance…
Oddly enough, when Yelena was a poison taster, her life was simpler. But she'd survived to become a vital part of the balance of power between rival countries Ixia and Sitia. Now she uses her magic to keep the peace in both lands—and protect her relationship with Valek.
Suddenly, though, they are beset on all sides by those vying for power through politics and intrigue. Valek's job and his life are in danger. As Yelena tries to uncover the scope of these plots, she faces a new challenge: her magic is blocked. She must keep that a secret—or her enemies will discover just how vulnerable she really is—while searching for who or what is responsible for neutralizing her powers.
Yes, the days of tasting poisons were much simpler. And certainly not as dangerous…
My Thoughts:
It has been a while since we have had a book focused on Yelena and Valek from Snyder. It is nice to see them again.
Yelena is attacked on her way to a rendezvous with Valek. She is shot with a poison-laced arrow. She thinks that she has gotten all the poison out. Valek goes out to try to track down the assassin but has not success. Also, Valek has been called back home to Ixia and leaves before the next effects kick in. As a result, Yelena loses her magic. She heads back to Sitia to try to find out if there is a cure.
Meanwhile, Valek is dealing with a new assassin. A young woman named Onora has broken into the Commander's palace. She wants Valek's job. Valek is ready to give it to her - if she can pass his tests. The Commander has set Valek the task of stopping a smuggling ring operating between Ixia and Sitia. He brings in Janco and Ari and assigns them to the task while he tightens security around the Commander and worries about Yelena.
Yelena learns that one of her old enemies has escaped from his prison and has targeted her. Without her magic, she is vulnerable. She visits her old colleagues who have no solutions for her. She decides to go off to her friend Opal to see if she knows anything. Her brother Leif goes along to protect her.
This was a great story with immediate problems - Yelena's loss of magic and Valek's issues with Onora - and larger political problems - the Council keeping secrets in Sitia and the Commander plotting in Ixia. All of these threads are nicely woven together. We also get some flashbacks about Valek's early life - how he became an assassin and how he came to be the Commander's head of security.
I really hope that there will be more stories starring Yelena and Valek. They weren't left in a nice, safe place at the end of this one.
Favorite Quote:
A coldness settled over me. "How long have they known?"

"A few days after he escaped."

Ice crackled through my heart. The Council knew before I left to meet Valek and they didn't bother to warn me.
I got this eARC at NetGalley.
You can buy your copy here
.