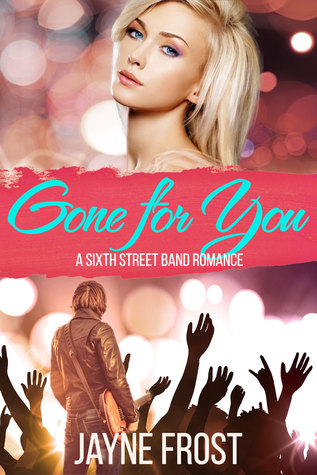 Gone for You
Author:
Jayne Frost
Series:
Sixth Street Bands, Book 1
Publication:
CreateSpace Independent Publishing Platform (March 22, 2015)
Description
: As the guitarist for the rock band Caged, I know the rules: no relationships. No complications. Leave 'em smiling when you go, but always go. Besides, it's not like I'm ever in one place for more than a few days at a time. As the next hottest thing out of Austin, the band and I are riding the wave, and the music is all that matters.
Until her…
Lily Tennison has "complication" written across her beautiful face. But I can't get involved. The timing's all wrong. But she's under my skin, and I can't resist her troubled eyes and sweet smile. And I do have a little time to kill. Not much, just a few days in Dallas.
So I'll scratch the itch and move on, like I always do.
Simple, right?
Note: You won't need to turn up the heat—Sixth Street Bands Romances have plenty of steamy fun. This story can be read as a stand-alone but is part of the Sixth Street Bands music scene.
My Thoughts:
This was a lust at first sight story that soon became a love at first sight story. Cameron is a rock star - lead guitar in a popular band. He's used to one night stands with the many groupies who hang around the band. When he first sees Lily at the resort hotel where the band is staying while in Dallas, he thinks this is just another girl in another town.
Lily isn't just another girl though. She is an art student near to graduation and working two jobs since her socialite parents tossed her out for changing her major from business and refusing to marry their hand-picked candidate. She is hurt that they aren't supporting her dreams but she is determined to make her dreams come true anyway.
The one thing I couldn't quite accept in this story is the speed with which Lily decides to start a relationship with Cameron. She had to know his reputation. She had only had one previous boyfriend - the jerk who courted her to get in with her father and had an affair with her friend on the side. I would have thought that she would have been more cautious. It didn't take long for Cameron to decide that Lily wasn't the kind of girl he could leave behind with no regrets.
Besides the relationship there were other conflicts for them to deal with including an agent who would do anything to get publicity for the band including throwing Lily to the paparazzi.
The love scenes were sexy and frequent with little hints of the kinky. Fans of rock stars as romantic heroes will enjoy this story.
Favorite Quote:
Her throaty laughter took up the entire car, filling the space and creeping into my body. Like something I wanted to hear every day. My thoughts drifted into dangerous territory. Relationship territory. My lifestyle didn't allow for relationships, so I didn't do them. I didn't even try.
I got this eARC from a publicist for review.
You can buy your copy here
.