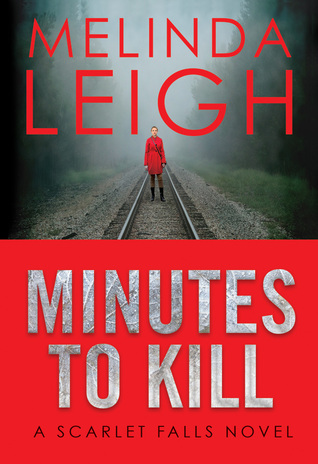 Minutes to Kill
Author:
Melinda Leigh
Series:
Scarlet Falls, Book 2
Publication:
Montlake Romance (June 30, 2015)
Description:
After corporate attorney Hannah Barrett tries—and fails—to stop a kidnapping in Vegas, she can't shake the haunting image of the terrified young girl she couldn't save. She tells herself that a visit to her hometown in Scarlet Falls could be a welcome distraction. But soon, Hannah realizes the kidnappers have all the info they need to track her every move. And when chilling e-mails about the victim appear in her inbox, it's frighteningly clear what happened in Vegas has followed her home.
Eight months after a terrible family tragedy, Hannah turns to Detective Brody McNamara once again. Brody is eager to help, though he's embroiled in the investigation of a brutal murder. But the closer they work together, the stronger their feelings grow…and the more they stand to lose when two seemingly unrelated, but equally deadly, cases collide.
Minutes to Kill
is the pulse-racing second novel in bestselling author Melinda Leigh's Scarlet Falls series.
My Thoughts:
MINUTES TO KILL was another great romantic suspense title by Leigh. We return to Scarlet Falls and witness another romance for the Barrett siblings. This time driven corporate attorney Hannah is the focus. After trying to thwart an attack on a young woman in Las Vegas - and winding up with a concussion and punctured eardrum herself - she returns to Scarlet Falls to recover. Her home is with her brother Grant and his family.
Hannah doesn't know that she has brought trouble with her. Her Las Vegas attacker Mick and his brother Sam have become fixated on her and really want to torture and kill her. The chapters from Mick's point of view were chilling. The mind of a sociopath is not a fun place to spend time.
Hannah starts to get emails saying that the girl she tried to rescue was still in danger. She lets Brody McNamara know. Brody is the police detective that she met when he began investigating her brother Lee's murder (HOUR OF NEED). The two are attracted to each other but he's still dealing with his divorce and a shooting which left him with PTSD and she's not intending to stay. He's also busy dealing with his alcoholic partner and a series of gruesome murders.
This doesn't seem to be a good time for a romance but spending time together makes them more and more attracted to each other. Both Brody and Hannah are strong, honorable people who are dealing with life issues. Hannah's troubled relationship with her father isn't helped by the fact that her father is in a nursing home, suffering from dementia, and is near death.
Like all books by the author, this one was a real page-turner. Fans of romantic suspense won't want to miss this exciting story.
Favorite Quote:
His wife left him when the going got tough. Clearly, she'd thought "for better or worse, sickness or health, and richer or poorer" were multiple-choice options rather than vows. He was better off without her.
I got this eARC from NetGalley.
You can buy your copy here
.