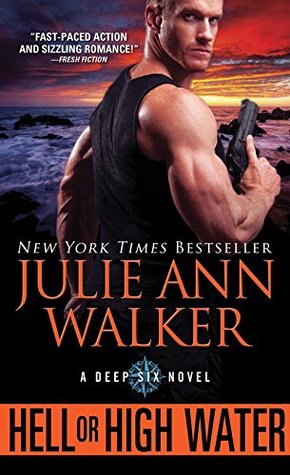 Hell or High Water
Author:
Julie Ann Walker
Series:
The Deep Six, Book 1
Publication:
Sourcebooks Casablanca (July 7, 2015)
Description:
In a world on the brink
Six men. One sunken Spanish galleon. Millions in gold and silver coins lying on the ocean floor. And a past that refuses to let the guys of Deep Six Salvage forget the Navy SEAL motto: the only easy day was yesterday...
There's more than one kind of treasure
The nation's security has always been CIA agent Olivia Mortier's top priority. But a mission-gone-wrong has begun to make her wonder if there's more to life than risking hers.
And more than one secret at the bottom of the sea
Only two things could make Leo Anderson abandon his hunt for the legendary lost ship, La Santa Christina, and return to the world of weapons and warfare he swore to leave behind: a capsule of enriched uranium, lost on the ocean floor, and a plea for assistance from the one woman he can't seem to forget...
My Thoughts:
Leo Anderson and his other SEAL buddies have left the service and started a salvage business. Leo's father was a treasure hunter who spent his life looking for a sunken Spanish treasure ship. After his death, Leo decided to try to find the ship himself.
They are living on Leo's family island when Leo's old flame CIA agent Olivia shows up asking for a favor. She and her CIA boss planned a sting involving chemical weapons in order to unmask a mole in the CIA but things went wrong. She needs the team's expertise to recover the chemicals without letting the mole know.
The chemistry between Leo and Olivia is hot but their lifestyles are not compatible. Also, Olivia is on orphan who grew up never having anyone love her or want to stay with her. It takes a while but that is what Leo wants. Now, all he has to do is convince Olivia. Of course, he has to do his convincing while battling ISIS terrorists who hijack a yacht, blow up their salvage boat, and otherwise cause mayhem.
There was a little too much overly descriptive sex in this one but I did find the characters engaging and will probably follow along with this series to see if the other men also find their true loves.
Favorite Quote:
Uh-huh. And suddenly he knew why his sixth sense was screaming and running around in circles like its hair was on fire. Because when a CIA agent came begging for favors, you knew it was time to bend over, put your head between your legs, and kiss your ass good-bye.
I got this eARC via NetGalley.
You can buy your copy here
.