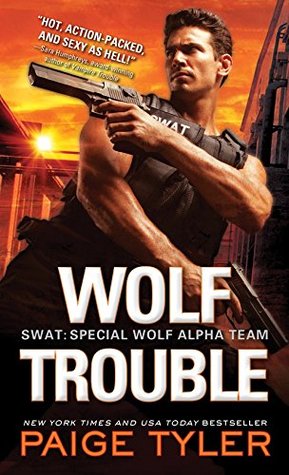 Wolf Trouble
Author:
Paige Tyler
Series:
SWAT (Book 2)
Publication:
Sourcebooks Casablanca (August 4, 2015)
Description:
He's in trouble with a capital T
There's never been a female on the Dallas SWAT team and Senior Corporal Xander Riggs prefers it that way. The elite pack of alpha male wolfshifters is no place for a woman. But Khaki Blake is no ordinary woman.
When Khaki walks through the door attractive as hell and smelling like heaven, Xander doesn't know what the heck to do. Worse, she's put under his command and Xander's protective instincts go on high alert. When things start heating up both on and off the clock, it's almost impossible to keep their heads in the game and their hands off each other...
My Thoughts:
The Dallas PD wants to add a female to the SWAT team for better PR. Since they are all werewolves, this doesn't sound like a good idea to the team. But their commander Gage has an idea. Newly turned Khaki Blake might be the perfect fit. She is eager to get away from her Washington town to get away from her harassing ex Jeremy. As a fellow cop, he has made things very hard for her.
When Gage puts Khaki on Xander's team, troubles mount. Xander is immediately attracted to Khaki but the facts that he is her supervisor and that she is just getting over a workplace relationship gone wrong make this the wrong time and the wrong place. But when a werewolf meets The One, there really isn't a choice.
Khaki feels the same way about Xander and is hurt when he seems to not like her. It takes a very special hostage rescue before they can own their feeling for each other. Once they do...the love scenes are spicy. Some vicious bank robbers, Khaki's pyscho ex and police department procedures mean the Xander and Khaki have lots of hurdles to jump before their romance can flourish.
Fans of werewolf romances will enjoy this book which is the second in the SWAT series and be looking forward to me. I can't wait for the next one.
Favorite Quote:
But then Riggs had walked into the training room, and snap! The scent coming off him was so tantalizing she'd almost leaned forward to get a better sniff. She controlled herself–barely. Shoving your nose into your new supervisor's neck and snuffling him like a pig probably wasn't' the kind of first impression she wanted to make.
I bought this one. You can buy your copy here.