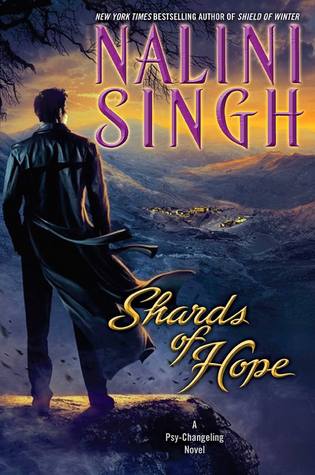 Shards of Hope
Author:
Nalini Singh
Series:
Psy/Changeling, Book 14
Publication:
Berkley (June 2, 2015)
Description:
The "smoldering heat, epic romance, and awesome action"* of Nalini Singh's New York Timesbestselling series continues as two Arrows find themselves caught in a chilling conspiracy that spans all three races…
Awakening wounded in a darkened cell, their psychic abilities blocked, Aden and Zaira know they must escape. But when the lethal soldiers break free from their mysterious prison, they find themselves in a harsh, inhospitable landscape far from civilization. Their only hope for survival is to make it to the hidden home of a predatory changeling pack that doesn't welcome outsiders.
And they must survive. A shadowy enemy has put a target on the back of the Arrow squad, an enemy that cannot be permitted to succeed in its deadly campaign. Aden will cross any line to keep his people safe for this new future, where even an assassin might have hope of a life beyond blood and death and pain. Zaira has no such hope. She knows she's too damaged to return from the abyss. Her driving goal is to protect Aden, protect the only person who has ever come back for her no matter what. This time, even Aden's passionate determination may not be enough—because the emotionless chill of Silence existed for a reason. For the violent, and the insane, and the irreparably broken…like Zaira.
My Thoughts:
SHARDS OF HOPE tells the story of two people who by all accounts should be broken beyond any chance of repair. Aden and Zaira are Arrows who have been tortured under the guise of training since they were small children. The theory was that their psychic gifts were so dangerous that this was the only way to control them. Zaira beat her parents to death with a rusty pipe when she was seven. This was her response to the systematic torture and abuse that she had been subjected to since she was a tiny child. Aden was abandoned by his parents when they placed him in the Arrow program to act as a sleeper agent whose goal was to take it over.
They met when Zaira entered the program and Aden did what he could to soften the training that she was receiving. They made a connection that shouldn't have been possible under the Silence but, then, neither were really controlled by the Silence.
Now that the Silence has been broken, Aden is determined to make a better life for the Arrows than their previous life as easily discarded tools for Counciler Ming LeBon. After spending some time with a changeling pack, he decides that he needs to make the Arrows into a family like the pack is. But a new hidden enemy is equally determined to kill Aden and destabilize the Arrows.
While Aden and Zaira are trying to forge a relationship having had no examples of what a healthy relationship should look like, Aden and Zaira are both trying to keep things stable. Zaira gets involved in searching for a small shifter child kidnapped by this new hidden enemy. As strong and broken as she sees herself, she has a soft spot for children and will not knowingly let any child be hurt.
This was a wonderful addition to the Psy/Changeling series. I can't wait to read more. I am especially curious about the identity of this hidden enemy and the future of Aden's plan for a new world order.
Favorite Quote:
Love isn't finite, she'd told him, it is infinite and it has infinite facets.
I bought this one for my Kindle.
You can buy your copy here
.