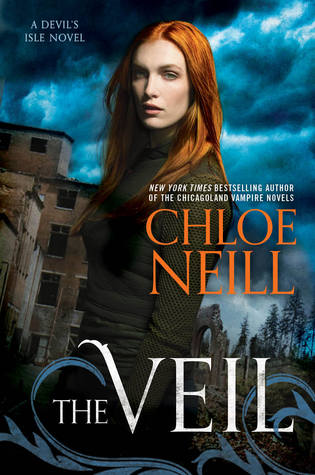 The Veil
Author:
Chloe Neill
Series:
A Devil's Isle Novel (Book 1)
Publisher:
NAL (August 4, 2015)
Description:
Seven years ago, the Veil that separates humanity from what lies beyond was torn apart, and New Orleans was engulfed in a supernatural war. Now, those with paranormal powers have been confined in a walled community that humans call the District. Those who live there call it Devil's Isle.
Claire Connolly is a good girl with a dangerous secret: she's a Sensitive, a human endowed with magic that seeped through the Veil. Claire knows that revealing her skills would mean being confined to Devil's Isle. Unfortunately, hiding her power has left her untrained and unfocused.
Liam Quinn knows from experience that magic makes monsters of the weak, and he has no time for a Sensitive with no control of her own strength. But when he sees Claire using her powers to save a human under attack—in full view of the French Quarter—Liam decides to bring her to Devil's Isle and the teacher she needs, even though getting her out of his way isn't the same as keeping her out of his head.
As more and more Sensitives fall prey to their magic, and unleash their hunger on the city, Claire and Liam must work together to save New Orleans, or else the city will burn…
My Thoughts:
Times have changed in New Orleans. Seven years ago the Veil that separated Earth from paranormals broke and paranormals stormed through with the goal of conquering Earth. New Orleans was ground zero but battles extended through much of the South. The government with the assistance of some human magic users managed to reseal the Veil stranding some paranormals on this side. Containment has set up a prison in New Orleans called Devil's Isle to sequester paranormals and Sensitives - humans who can use magic.
Claire is 24 and a fourth generation citizen of New Orleans. Her great-grandfather began Royal Merchandise which was an antique store in good time but which now sells MREs, batteries, duct tape and other goods the remaining citizens of New Orleans need. Claire has also recently learned that she is a Sensitive with a small gift for telekinesis and is desperate to keep the information from Containment. If she doesn't learn how to deal with her magic, she can turn into a Wraith.
However, when she uses her magic to help save a young woman from Wraiths, her cover is blown. Liam Quinn discovers her. He is a bounty hunter who hunts Wraiths. A Wraith killed his younger sister. Liam helps Claire by finding a teacher for her so that she can learn to deal with magic in such a way as to not turn into a Wraith.
He takes her into Devil's Isle where she learns that all paranormals aren't evil. This is quite a change in her world view. Soon she gets involved in a movement that wants to get Containment to realize that all Sensitives can learn to use their magic and, therefore, not turn into Wraiths. She also learns that someone is trying to reopen the Veil which could further devastate New Orleans and all who live there.
There is the beginning of a romance between Liam and Clare complicated by Liam's fear that Claire will someday turn Wraith and that he will be forced to hunt her and take her to Devil's Isle. Liam does admire Claire. He calls her "recklessly brave."
I liked the world building in this story and I liked the way Claire grew and changed. I can't wait to see where this series goes next.
Favorite Quote:
Liam sighed. "You ever wonder why we didn't leave? Start over outside the Zone?"

"Because memories are the most powerful chains," I said.

He looked surprised by my answer. "That's right on the mark."

"Between stocking batteries and dusting antiques, I have lots of time to think."
I got this eARC from NetGalley.
You can buy your copy here
.