Happy Friday everybody!
Book Beginnings
on Friday is now hosted by
Rose City Reader
.
The Friday 56
is hosted at
Freda's Voice
. Check out the links above for the rules and for the posts of the participants each week. Don't dig for your favorite book, the coolest, the most intellectual. Use the CLOSEST.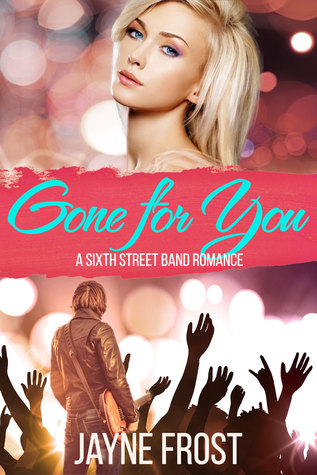 This week I am spotlighting
Gone for You
by Jayne Frost. This is a contemporary romance and part of the Sixth Street Bands series. Here is the description from Amazon:
As the guitarist for the rock band Caged, I know the rules: no relationships. No complications. Leave 'em smiling when you go, but always go. Besides, it's not like I'm ever in one place for more than a few days at a time. As the next hottest thing out of Austin, the band and I are riding the wave, and the music is all that matters.

Until her…

Lily Tennison has "complication" written across her beautiful face. But I can't get involved. The timing's all wrong. But she's under my skin, and I can't resist her troubled eyes and sweet smile. And I do have a little time to kill. Not much, just a few days in Dallas.

So I'll scratch the itch and move on, like I always do.

Simple, right?

Note: You won't need to turn up the heat—Sixth Street Bands Romances have plenty of steamy fun. This story can be read as a stand-alone but is part of the Sixth Street Bands music scene.
Beginning:
My knee bounced up and down nervously as the cab inched along in the heavy afternoon traffic on I35. Pulling out my cell phone, I hit redial.
Friday 56:
"It was nice meeting you, Cameron." Greg clapped me on the back. "I'm sure I'll see you before you leave."

"Sure. Thanks," I said, my eyes on Lily the whole time.