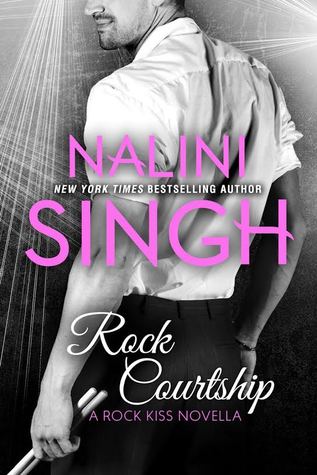 Rock Courtship: A Rock Kiss Novella
Author:
Nalini Singh
Publication:
TKA Distribution (September 30, 2014)
Description:
What happens when the Gentleman of Rock decides to play dirty?
A drummer for the hottest rock band on the planet, David has a single, powerful weakness: Thea, the band's publicist and the woman who steals his breath away with her every move.
Only problem is, Thea doesn't date clients—or musicians. Emotionally scarred by a cheating ex, she's not about to risk her heart with a man who has groupies buzzing around him like flies. Even if his sexy smile ties her up in knots.
What she doesn't know is that David is a one-woman man...and he's madly in love with her. David's determined to prove he's worth the risk, and willing to court her, step by exquisite step. Thea's about to discover just how long and hard this handsome drummer can play.
My Thoughts:
This Rock Kiss novella tells the story of David and Thea. David is the drummer for the hit rock group Schoolboy Choir. He and his band mates can have all the girls they want but the only one he wants is Thea. Thea is the band's publicist. She has a long standing rule of not dating clients or musicians.
David is getting his heart broken by Thea's perceived indifference until Thea's sister Molly encourages him to lay out his feeling in a memo. She knows that her sister won't be able to resist responding. Through memos David gets Thea to see him in a new way.
But Thea is still dealing with the betrayal of her former fiance and is not eager to trust her heart to the beautiful musician. David needs both patience and perseverance to win Thea's heart. And, just when things are finally going well, he gets hit with a paternity suit from a young woman who is looking to score big.
This was another spicy entry into the Rock Kiss series. I liked both characters very much and ached for them to have their happy ending.
Favorite Quote:
When you suffer such a big hurt, the longer you permit it to live in you, the bigger it grows, until it seeks to devour your soul.
I got this eARC from NetGalley.
You can buy your copy here
.