Happy Friday everybody!
Book Beginnings on Friday is now hosted by Rose City Reader.
The Friday 56
is hosted at
Freda's Voice. Check out the links above for the rules and for the posts of the participants each week.
Don't dig for your favorite book, the coolest, the most intellectual. Use the CLOSEST.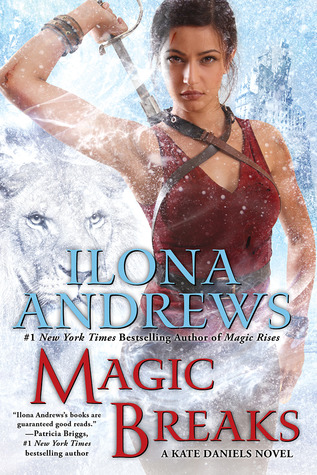 This week I am spotlighting Magic Breaks by Ilona Andrews. This is the most recent book in their Kate Daniels urban fantasy series. I got it, and autographed too, when I attended their book signing recently. Here is the description:
No matter how much the paranormal politics of Atlanta change, one thing always remains the same: if there's trouble, Kate Daniels will be in the middle of it…

As the mate of the Beast Lord, Curran, former mercenary Kate Daniels has more responsibilities than it seems possible to juggle. Not only is she still struggling to keep her investigative business afloat, she must now deal with the affairs of the pack, including preparing her people for attack from Roland, a cruel ancient being with god-like powers. Since Kate's connection to Roland has come out into the open, no one is safe—especially those closest to Kate.

As Roland's long shadow looms ever nearer, Kate is called to attend the Conclave, a gathering of the leaders from the various supernatural factions in Atlanta. When one of the Masters of the Dead is found murdered there, apparently at the hands of a shapeshifter, Kate is given only twenty-four hours to hunt down the killer. And this time, if she fails, she'll find herself embroiled in a war which could destroy everything she holds dear…
Beginning:
Kate, this is really dangerous," Ascanio said.

Teenage shapeshifters have an interesting definition of "dangerous." Lyc-V, the virus responsible for their existence, regenerates their bodies at an accelerated rate, so getting stabbed means a nap followed by a really big dinner, and a broken leg would equal two weeks of taking it easy and then running a marathon with no problems.
Friday 56:
Alphas of Clan Heavy, Clan Bouda, and Clan Jackal. Nice.

"I'll be back before you know it."

With that backup, he could wipe out a small army.