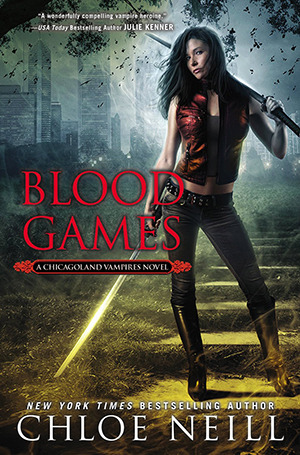 Blood Games
Author:
Chloe Neill
Series:
Chicagoland Vampires (Book 10)
Publication:
NAL Trade (August 5, 2014)
Description:
While Merit didn't choose to become a vampire or Sentinel of Cadogan House, she vowed to fight for her House and its Master, and she's managed to forge strong alliances with powerful supernaturals across Chicago. But even though Merit has had wild adventures, this may be her deadliest yet....
A killer is stalking Chicago, preying on humans and leaving his victims with magical souvenirs. The CPD hasn't been able to track the assailant, and as the body count rises, the city is running out of options. Vampires and humans aren't on great terms, but murder makes for strange bedfellows. Can Merit find the killer before she becomes a target?
My Thoughts:
BLOOD GAMES was an excellent addition to the Chicagoland Vampires series. This time Ethan is waiting to hear the results of his challenge for the leadership of the Greenwich Presidium. The leader - Darius - has been suspiciously silent.
Meanwhile, Merit is called by her Grandfather to take a look at a crime scene. The son of one of the police officers who works with Chuck has been murdered. Chuck wants Merit to see if she thinks vampires were involved. She and Ethan and Jonah take a look at the site but don't think vampires were involved despite the fact the katanas, but not genuine katanas, were part of the scene.
Merit's investigation with Jonah into to source of those fake katanas leads to the funniest section of the book. Their investigation takes them to a science fiction sort of convention where Merit is assumed to be dressing up as herself - and not doing it very well - and she is baffled by all the souvenir gear with Ethan's face on it. His face on ladies' underwear is the most baffling to her.
Things escalate when more murders are committed and the competition for leadership of the Greenwich Presidium involves Ethan in mental and physical challenges. Ethan and Merit are also dealing with some relationship issues too as Ethan is being blackmailed and is afraid to tell Merit what secret the blackmailer is threatening to expose. While they love each other deeply, they really haven't been together very long and they are both still getting used to trusting each other.
I loved the writing and I certainly love Merit and Ethan. I can't wait for more adventures.
Favorite Quote:
"You're my world," he said, putting down the glass. "You're mine to protect."

"And I'd say the same thing about you."

His eyes went hot again, and he stared back at me from across the room, magic rolling off him in hot waves. "Will you stop being so goddamned stubborn?"

I kept my eyes on his, my tone even. "No. Will you?"

"I want to keep you safe."

"And I want to keep you safe. I did keep you safe," I pointed out, "And still no thank-you for that."
I bought a print copy of this and a Kindle copy too.
You can buy your copy here
.