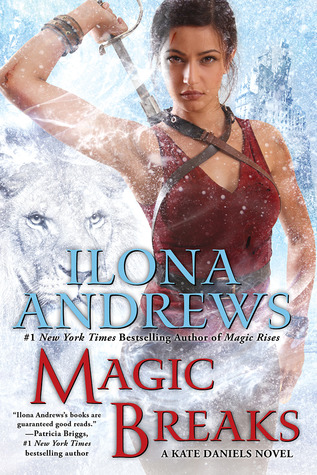 Magic Breaks
Author:
Ilona Andrews
Series:
Kate Daniels (Book 7)
Publication:
Ace Hardcover (July 29, 2014)
Description: No matter how much the paranormal politics of Atlanta change, one thing always remains the same: if there's trouble, Kate Daniels will be in the middle of it…
As the mate of the Beast Lord, Curran, former mercenary Kate Daniels has more responsibilities than it seems possible to juggle. Not only is she still struggling to keep her investigative business afloat, she must now deal with the affairs of the pack, including preparing her people for attack from Roland, a cruel ancient being with god-like powers. Since Kate's connection to Roland has come out into the open, no one is safe—especially those closest to Kate.
As Roland's long shadow looms ever nearer, Kate is called to attend the Conclave, a gathering of the leaders from the various supernatural factions in Atlanta. When one of the Masters of the Dead is found murdered there, apparently at the hands of a shapeshifter, Kate is given only twenty-four hours to hunt down the killer. And this time, if she fails, she'll find herself embroiled in a war which could destroy everything she holds dear…
My Thoughts:
This book brings the story ARC of the confrontation with Roland to a conclusion. For all her life, Kate Daniels has been hiding in plain sight and growing her magical abilities so that she would one day be able to meet and kill her father Roland. The man who raised her - Voron - did all he could to turn her into a killing machine and point her at Roland. Killing Roland will be Voron's revenge for the death of Kate's mother at Roland's hands.
Hugh D'Ambray is Roland's warlord. He was also a pupil of Voron. When he learned of Kate's identity in the previous book, he decided to capture her and present her to Roland. Now he has come to Atlanta and is fomenting a war between the Pack and the People. Kate and Curran are both trying to defuse that situation and Kate would really like to kill Hugh.
Things don't go particularly well and Kate and Ghastek end up kidnapped. While they are held captive in a well, we learn Ghastek's back story which made him a more human character than he has been in all the previous books. We also see Kate's confidence that Curran will find her no matter where Hugh has hidden her. Faith and love were not virtues taught her by Voron but they are Kate's alone.
Kate is her usual snarky self with a sarcastic wit. But what clearly comes through is her desire to protect. One of the characters says that she doesn't make a good leader because she is unable to sacrifice people she knows and loves for the greater good of the whole. Kate acknowledges that but doesn't think it is a character flaw though is does spotlight a weakness her enemies can exploit.
The story was filled with fighting, politics, love, and danger. I am eager to see what comes next for Kate and Curran.
Favorite Quote:
"Fortune favors the brave," I told her. It also kills the stupid, but I decided to keep that fact to myself. "Come on. We need to hurry."
I bought this one.
You can buy your copy here
.