It's Monday, What Are You Reading? is a meme hosted by Sheila at Book Journey
.
It's Monday! What Are You Reading, is where we gather to share what we have read this past week and what we plan to read this week. It is a great way to network with other bloggers, see some wonderful blogs, and put new titles on your reading list.
I had a productive week. I had a nice trip up to the Cities to meet Kelly Barnhill and get her books autographed. Her newest book went right to school. I'm not even going to pretend that I will have time to read it for the foreseeable future. (38 review books on my stack makes that very unlikely.)
Since I didn't have other meetings or things on my calendar, I got a lot of reading done. With the baseball season winding down for me, I expect to have even more time to read. Of course, The Voice is starting which will increase the amount of television I watch.
This coming week looks pretty open too. I do have a book signing to attend on Friday night in the Cities but, otherwise, my calendar is clear.
Read Last Week
Atlantia
by Ally Condie was an interesting dystopia that included an underwater city, people who live there who develop the power of sirens, political intrigue and a romance. I liked it. My review will be posted on Oct. 22. I have already reviewed it at LibraryThing and GoodReads.
Snow Like Ashes
by Sara Raasch is a debut novel that is an epic fantasy about a group of refugees who have to reclaim a magical object in order to free their kingdom. It has political intrigue and romance and was a fast-paced read. My review will be posted on October 16.
Chasing Power
by Sarah Beth Durst was a great contemporary story with adventure, magic and romance. My review will be posted on October 20.
Centaur Rising
by Jane Yolen was historical (it takes place from 1964-1966) fantasy and tells the story of a centaur born on a horse farm and how the birth changes lives. It was a delightful story. My review will be posted on October 18.
Nick and Tesla's Super-Cyborg Gadget Glove
by Bob Pflugfelder and Steve Hockensmith was the fourth adventure in this middle grade scientific mystery series. It was a fun romp. Middle graders will enjoy the series. My review will be posted on Sept. 22 for this Oct. 7 release.
Rock Addiction
by Nalini Singh is a contemporary romance. I liked the characters very much and loved that love managed to triumph despite the damage each main character had suffered in the past. This one is for romance readers who like their stories spicy. My review will be posted on October 18.
Currently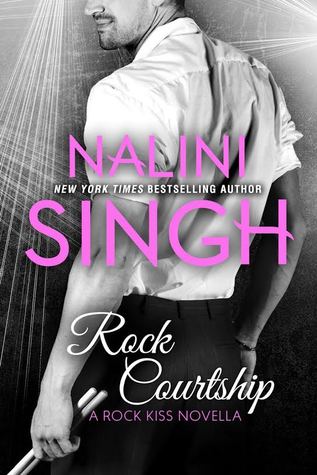 I am now reading Rock Courtship by Nalini Singh which is a novella in the same series as Rock Addiction. I got this eARC from NetGalley. It will be released on September 30.
Next Week
This week's books are all Kindle and all Review. I'll be finishing up my October books and beginning the twelve I have that are being released in November.
Reviews Posted
Want to See What I Added to My Stack Last Week?
Inside of a Dog

- I didn't add any adult books to my stack this week.
What do you have planned for the coming week?