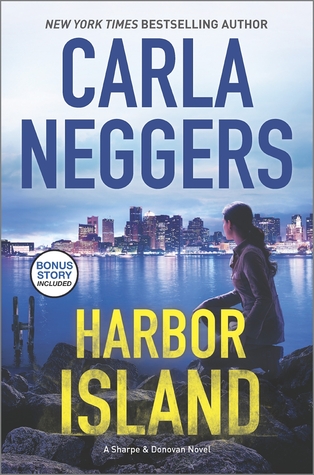 Harbor Island
Author:
Carla Neggers
Series:
Sharpe & Donovan Novels
Publication:
Harlequin MIRA (August 26, 2014)
Description:
In this vivid and suspenseful addition to her widely acclaimed Sharpe & Donovan series, New York Times bestselling author Carla Neggers takes readers on a heart-stopping journey from Boston to Ireland to the rocky coast of Maine
Emma Sharpe, granddaughter of world-renowned art detective Wendell Sharpe, is a handpicked member of a small Boston-based FBI team. For the past decade Emma and her grandfather have been trailing an elusive serial art thief. The first heist was in Ireland, where an ancient Celtic cross was stolen. Now the Sharpes receive a replica of the cross after every new theft—reminding them of their continued failure to capture their prey.
When Emma receives a message that leads her to the body of a woman on a small island in Boston Harbor, she finds the victim holding a small, cross-inscribed stone—one she recognizes all too well. Emma's fiancé, FBI deep-cover agent Colin Donovan, is troubled that she's gone off to the island alone, especially given the deadly turn the thief has taken. But as they dig deeper they are certain there is more to this murder than meets the eye.
As the danger escalates, Emma and Colin must also face do-or-die questions about their relationship. While there's no doubt they are in love, can they give their hearts and souls to their work and have anything left for each other? There's one thing Emma and Colin definitely agree on: before they can focus on their future, they must outwit one of the smartest, most ruthless killers they've ever encountered.
My Thoughts:
HARBOR ISLAND is the fourth book in the Sharpe & Donovan series and manages to tie up quite a few loose ends from earlier books in this series. Emma Sharpe and Colin Donovan are the main characters but a number of other characters have substantial roles in this story too.
Emma and Colin's boss Yank and his wife Lucy are in Ireland. Yank is investigating the thefts and Lucy almost becomes a victim.
Major roles also go to Father Fin Bracken and Aiofe O'Byrne. Fin has recently become a priest after tragically losing his wife and young daughters in a sailing accident. After their deaths and before he found his vocation, he was dealing with his grief by drinking too much. During that time he also had a brief relationship with Aiofe who was the niece of the man who was the first victim of the elusive thief that Emma's grandfather has been tracking for over ten years. Aoife is a well-known artist and she is still carrying a torch for Fin.
While the story is a great mystery, I was equally intrigued by the relationships in the story. Yank and his wife have been married for years but have somehow stopped communicating. This story gives them a chance to reconcile and decide what is important in each of their lives. Colin and Emma's relationship is new. He just asked her to marry him at the end of the last book and they haven't told their families yet. Since Colin is a deep cover agent for the FBI, their relationship has a number of hurdles that have to be worked out. Then there is Fin's relationship with his lost family and coming to terms with his loss and settling into his new vocation.
Along the way the characters are involved in a murder investigation when Rachel Bristol is murdered after calling Emma to meet with her. Rachel had been busy investigating the same case that has preoccupied Emma and her family. Her goal is to create a film inspired by those events. Also involved in film making are her ex-husband Travis and Travis's daughter Maisie who is the most successful of the three. Fears are that that thief is now escalating to murder.
Mystery fans who like long story arcs will enjoy this series. The characters are well-drawn and interesting people and we learn a lot about them through the course of these four novels. I enjoyed getting to know Emma, Colin and their friends and colleagues and can't wait to read more about them.
Favorite Quote:
"I think I should stay and hear what Miss O'Byrne has to say."

"You can think what you want, but you're not staying. Come on. I'll let you push the buttons in the elevator. I thought that was the best thing when I was a kid."

Palladino glowered. "An FBI agent who thinks he's funny. Just what I need."
I got this book from Meryl Moss Media Relations.
You can buy your copy here
.